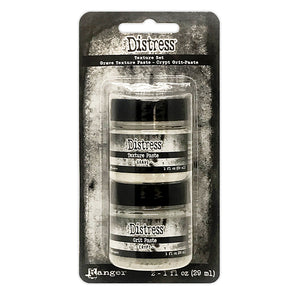 Distress Halloween Texture
Tim Holtz Distress Texture Paste Grave is an opaque medium ideal for creating dimensional effects on surfaces. Use on its own or with stencils. Seasonal color Grave has a grey tint with black flecks to mimic a stone effect.

Tim Holtz Distress Grit-Paste Crypt is a translucent dimensional medium that dries to a textured matte finish. The grey tones and black specks give Crypt its realistic look.
2 - 1 fl oz (29ml)