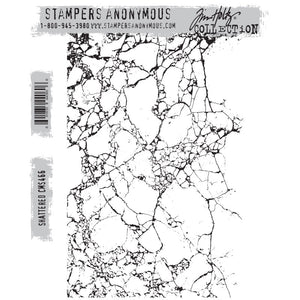 Tim Holtz Rubber Stamp Shattered
Curated by Tim Holtz and made in the USA.  These red rubber stamps are deeply etched for fine detail and mounted on 0.125 inch gray static cling cushion.  The cushion allows for easy repositioning and convenient storage. The stamps can cling mount to any clear acrylic block, like the Tim Holtz Grid Blocks.

The stamp sheet measures approximately 7 x 8.5 inches.
Gridblock included with this large stamp.